This post is also available in: German
For a long period of time newspaper publishers have complained about their readers for their resentment to pay for news online. Search engines, bloggers and the audience have been accused of being 'parasites'. It's time for a reboot. Joining a start up company from Munich, Germany, I want to prove that there is money in online-journalism, if only you provide a payment method to your readers, that many people have been waiting for.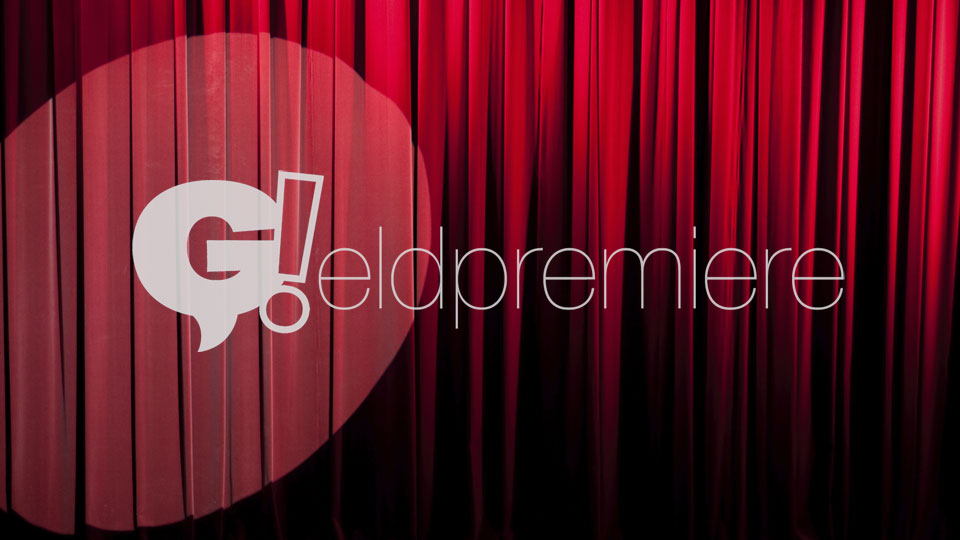 Once upon a time in Cairo
I've been waiting for this day for a long time. In today's blog post, the Munich-based startup LaterPay and I would like to present an idea that we believe in, and have been working on for some time now.  A micropayment system that enables bloggers, journalists and publishers to earn money with online journalism, thanks to the often-criticized "lousy pennies" i.e. micropayments. It's a system built around the needs of the reader, and one that presents a genuine alternative to pay-walls, metered models and digital subscriptions. The story of how I came to know LaterPay and why I'm so convinced of this idea, begins three years ago in Cairo.
In early 2011, when Egyptians hit the streets to demonstrate, I travelled to Cairo on my own initiative to blog about the first days of the revolution. Roaming costs were eating into my budget. My cellphone bill quickly exceeded the 3000 Dollar mark. What I didn't expect: as I sat in Tahrir Square blogging away, my readers began to donate money, practically paying me voluntarily for my reports. Approximately 4000 Euros were donated through PayPal, flattr and direct transfers (click here for the grand total). 
Pay me, bitch!
Getting paid for online journalism – is it really possible? Of course I know that Cairo was an exception and that day-to-day journalism consists largely of content nobody would pay for. I wouldn't either. And yet, I couldn't shake the thought: are pay-walls and metered models really the last resort? How is it possible that someone like me – a news junkie and iPad addict – has never subscribed to a newspaper online?
What if readers are given the possibility to pay for articles, pictorials and videos voluntarily? As a blogger I'm rewarded by my readers regularly, when they recommend my content. What if the concept behind social media networks like Facebook and co were transferred to journalism, and retweets, Facebook likes and Google Pluses could result in payment? If a reader clicks the "like" button because he appreciates an article, would he also click a "10 cent" Button?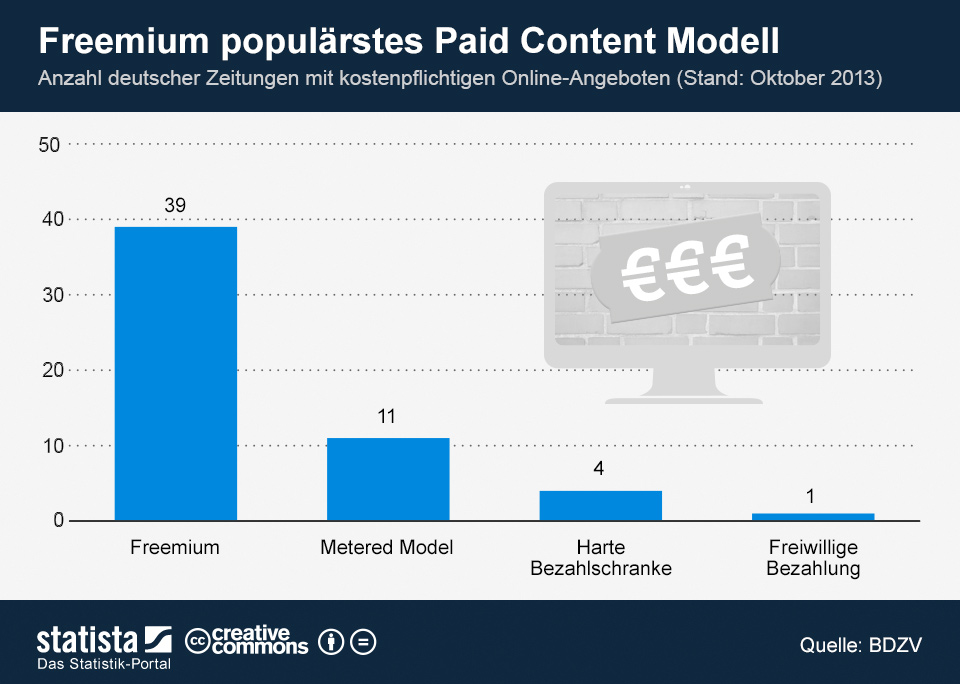 The money is there!
As you can tell by the video above dating back to the year 2010, it's a subject I've been exploring for a long time. I've discussed and spoken about the "paid content" problem at numerous events. Inspired by one of my lectures, my university friend Karsten Lohmeyer launched his own blog "Lousy Pennies." The problem isn't a lack of money. This never has been the problem. Germans spend around 3 billion Euros annually for SMS and MMS alone  – even in times of free messaging services like WhatsApp.
Many of my readers want to pay me. This isn't merely wishful thinking: several dozen donations that reach me week for week prove it. Though they never reach me in their entirety: systems like PayPal charge horrendous fees that swallow up micro-donations almost in full. Need an example? Last week Dominik wanted to help my cause and donated 50 Cent. Once the fees had been deducted, exactly 14 Cent remained of the initial donation! (see the bill here).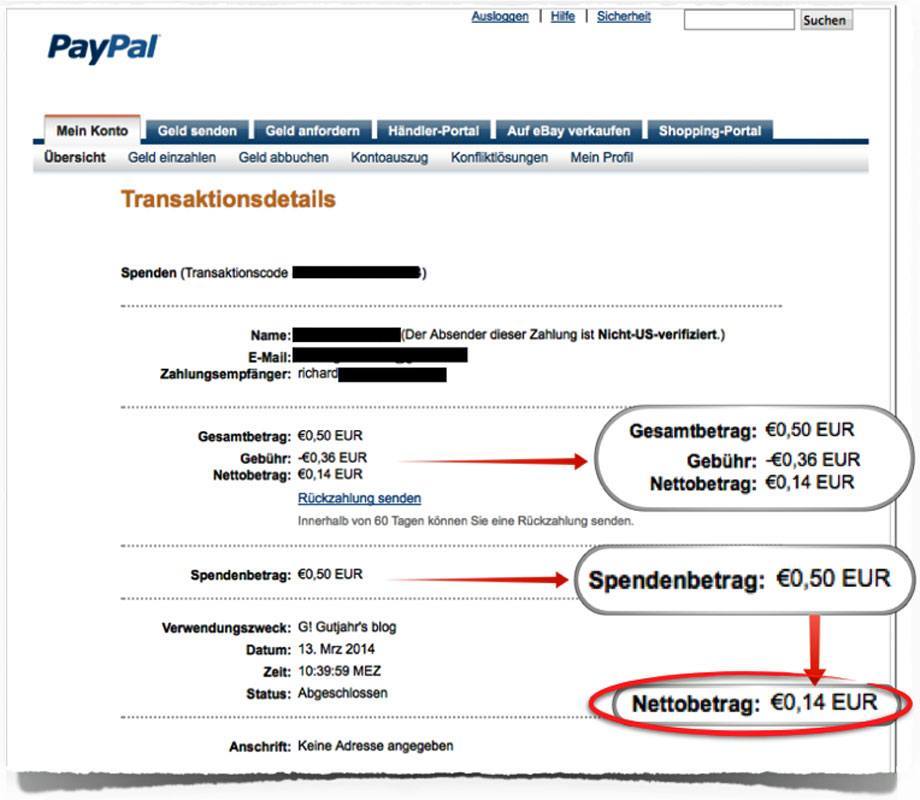 Ludicrous payment procedures
Current online payment methods accommodate the needs of the publisher, not those of the reader.
Besides the disproportional transaction fees, there is another problem: every payment method for journalistic online content, currently used by publishers, is incredibly impractical for the reader. Why should I buy an entire newspaper if I'm only interested in reading (and paying) one article? Why should I agree to a weekly or monthly subscription if I'm unsure whether I'll even return to the site? Why does every publisher use a different payment system? Why is registering for them so unbelievably complicated?
You don't have to be Gutenberg or Zuckerberg to understand that we need a system that's as quick and easy to use as "liking" something on Facebook. A system which enables me to pay for exactly the content that I'm interested in, at a fair price.
This is where LaterPay comes into play.
What is LaterPay?
LaterPay is a young startup from Munich, which has been rethinking the concept of micropayments for years. It's important to understand that LaterPay isn't just a technical platform; it's a philosophy. It's based on a very simple assumption: the reader wishes to pay, so long as he/she understands the value of the item and payment is made easy. The user does not want to be pestered by annoying registrations and long payment procedures, especially not on the go, when in need of a quick read. For this very reason it isn't necessary to register with LaterPay, at least not right away. Initially a simple "yes, I'll pay later" is enough. The user can then assess the value of the paid content before paying later on.
The best real-life comparison to the LaterPay concept is the way pubs operate in Germany. You order three or four beers, for every beer a mark is made on your coaster. At the end of the night you are asked to pay exactly the amount you've consumed. When using LaterPay you are asked to pay when you exceed the sum of 5 Euros. Thanks to this system of "collecting" until you reach a rounded figure, the transaction costs are minimal (a maximum of 15% compared to the more common 30% margins charged by the likes of Apple, Amazon and Google).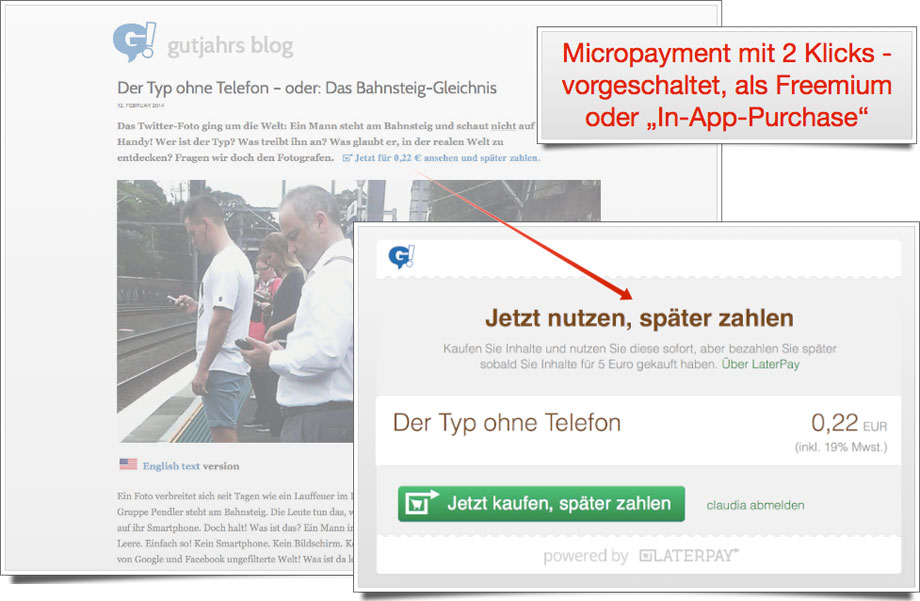 Micropayment leads to more subscriptions
Thanks to a counter on the screen, users are always aware of how much money they've spent. The publisher has access to a dashboard which displays all LaterPay transactions in real time. At the end of the month both publishers and users receive an invoice, listing every article accessed through LaterPay, much like a detailed phone bill, listing every call made.
The interesting thing about LaterPay is that as a journalist I can decide which business model I wish to offer my customers. I can sell individual articles from 5 cent upward, but can also offer Freemium models. I can even combine them. Subscriptions can also be handled by LaterPay. We're convinced: users are more likely to take the step from micropayment to a subscription than the step from free content to paid content behind a "pay wall".

Returns possible
LaterPay is also the first provider to offer content returns for individual items. This way the risk taken by users is reduced to a minimum. "Someone who knows that he is able to return content free of charge, pays knowing that he has been treated fairly," says LaterPay founder Cosmin Ene. "Content returns create trust between user and publisher." To make sure both readers and publishers get what they deserve, a special algorithm ensures that the system remains fair and users don't make a habit of returning content. 
How I discovered LaterPay
Last year, long before Cordt Schnibben launched an essay series of the same name in Spiegel, I invited my G! blog readers to a debate centered around the "Newspapers of the Future." In addition to contributions from the likes of Frank Schirrmacher, Sascha Lobo, Mario Sixtus, Thomas Knüwer, Ulrike Langer, Amir Kassaei, school kids, college students and newspaper editors took part in the debate.
"Finally there's no longer any need to purchase an entire issue of Playboy if you want to read only the interviews!"
One day I was contacted by Christian Hasselbring, the former CEO of stern.de. Christian informed me of a micropayment-system, offering exactly the type of functionality that I (and apparently many of my readers) had been longing for. After meeting Cosmin Ene, the founder of LaterPay we quickly agreed to work together. Since last autumn, I've been part of LaterPay's team of consultants. The WordPress plugin which you can test on my blog, was developed largely around my feedback and guidelines.
I am of course aware that by working with LaterPay, I'm giving up my status as an objective observer. But I've come to realize that you rarely change things simply by speaking about them at media conferences. Sometimes it's necessary to experiment and take risks. It's time to undo the Gordian knot for paid online journalism. No money, no journalism. If I want to remain a journalist in the future how can I possibly ignore the question of payment methods?
Returning value to quality journalism

Micropayments should be a genuine financing option for online journalism, along with already existing payment models such as advertising, crowdfunding, and donations. Naturally my hope is that one day "all-you-can-read-flatrates", similar to those offered by music providers like Spotify, will become the norm. But we're not there yet. By offering free content for the past 15 years, publishers have confused their readers. The user must now gradually be convinced of the need for payment. Myself and the LaterPay team are convinced that micropayments are the way forward.

 "I've lost count how often I considered downloading the Spiegel's headline story over the past years – but at a cost of 4 Euros?" (SpOn)
Only once I know how much money I need to spend on well researched background stories, editorials, interviews and reportages, am I able to assess the true value of quality journalism. There could be a positive spin-off effect: if readers have the possibility to reward individual pieces of journalistic content with micropayments, this could lead to an increase of well researched journalism and a decline in so-called "copy-paste journalism" and pictorials.
Unlike pay-walls and other variations of this system (metered models), we don't believe it's necessary to impose monthly subscriptions on readers. We want the reader to feel good about paying because a certain article, caricature or video is actually worth something to him or her. Provided the payment system is quick and easy, and the user can assess the quality of the content before actually paying.
How can I participate?

You'll be able to test LaterPay yourselves on my blog from next week onwards. Simply click on the demo "Pay" button (don't panic, this has no consequences just yet). And don't worry, my blog will still be freely accessibly in the future! The only thing that will change: thanks to LaterPay you will have the possibility of paying me for content. With just 2 clicks (!) you will have access to further information, graphics or videos. A kind of "in-app-purchase" you may be familiar with from the gaming world, simply adapted to journalism.
If you're a blogger, journalist or publisher, you can offer LaterPay's services on your own website. The WordPress Plugin ist ready and will be available for download in several weeks. Further versions for Joomla, Drupal or API will follow. In case of technical questions, please contact LaterPay via this e-mail. If you have any personal questons for me, post them in the comment section or send them to me via email. I look forward to your feedback!